In the digital age, food advertising has exceeded traditional boundaries, turning everyday meals into viral sensations. With more than 31,000 food and beverage companies competing for attention, standing out in the digital space is no small feat. It requires a blend of humor, design, strategy, and user engagement. Let us take a look at seven digital food advertisements that not only caught our eye but captured our hearts and appetites, becoming viral phenomena.
What are Digital Food Ads?
Before we start discussing the examples, let us try to understand what digital food ads actually are. In essence, digital food advertising is the practice of promoting food and beverage products through digital channels. This can include social media, search engines, websites, email marketing, and mobile apps. The aim is to attract the audience with appealing visuals, engaging stories, and compelling calls-to-action that lead to brand awareness, customer engagement, and ultimately, sales. Unlike traditional advertising, digital ads offer the ability to target specific demographics, track performance in real-time, and adjust strategies for maximum impact.
1. Jif Peanut Butter – A Heartbeat of Flavor
Jif Peanut Butter's digital ad pulsated with creativity, using motion graphics to depict a beating heart, symbolizing the love and excitement that consumers have for the brand. The ad's use of Jif's signature colors not only reinforced brand recognition but also showcased the integrity of the brand. This clever use of visual effects demonstrates the power of aligning a brand's message with a universally positive symbol, love.
2. Goldfish – A Snack that Smiles Back on St. Patrick's Day
Goldfish's St. Patrick's Day Twitter campaign was a pot of gold in the world of digital marketing. The ad featured two little fish indulging in the holiday spirit, a narrative that was both humorous and timely. Its brevity made it perfect for the fast-paced Twitter environment, proving that a simple, relatable story can be a recipe for viral success.
3. Chipotle – Sustainable Storytelling
Chipotle's "Back to the Start" campaign was a masterclass in visual storytelling. The animated ad, which debuted in movie theaters and at the Grammys, highlighted the importance of sustainable farming. It resonated with viewers by touching on environmental concerns, showcasing the brand's ethics, and connecting with the audience on a deeper level. Chipotle's approach underlines the effectiveness of ads that align with the values and issues that are important to their customers.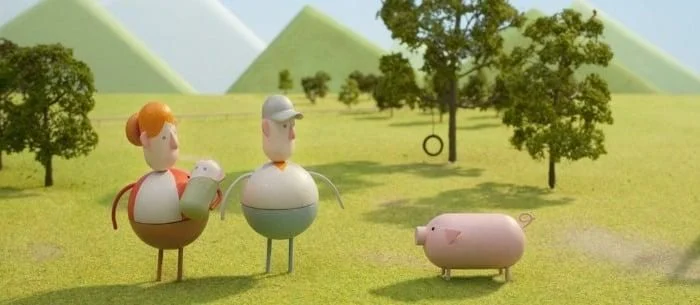 4. Clevr – The Art of Simplicity
Clevr's advertisement for its Matcha Chai Latte and Chai Super Latte drinks was proof of the power of simplicity. With a minimalist design, soothing music, and soft pastel colors, the ad provided a tranquil visual experience that evoked a sense of calm. This ad's visual appeal and versatility across different channels highlight the importance of a clean and focused message.
5. Panera Bread – Indulging the Senses
Panera Bread's Facebook ad used the most fundamental human emotion, hunger. By showcasing their mouth-watering macaroni and cheese, the ad directly appealed to viewers' appetites. The inclusion of a clear call-to-action guided the audience toward the end goal, which is satisfying their cravings with Panera's delectable offerings.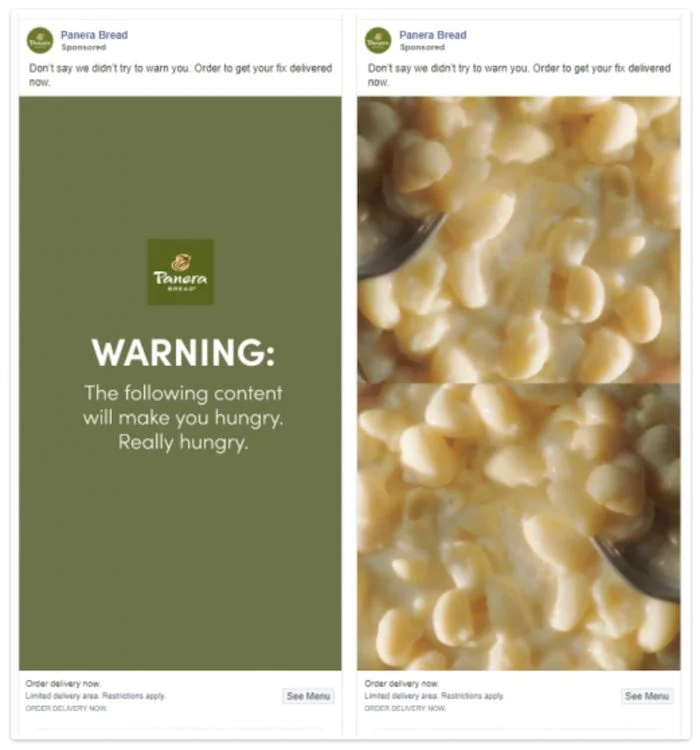 6. Five Guys – Keeping it Real
Five Guys has always been about authenticity, focusing on what they do best, which includes burgers, fries, and shakes. Their ad featuring a warming burger bun was straightforward yet effective, with a creative call-to-action that encouraged viewers to find their nearest Five Guys. This approach demonstrates the power of knowing your brand's strengths and playing to them.
7. Burger King – Nostalgia Meets Novelty
Burger King's campaign to bring back their legendary chicken fries struck a chord with nostalgia. Their Twitter ad, which personified the chicken fries with human traits, delivered humor and a dose of nostalgia, appealing to the emotions of Gen Z and millennials. The use of custom graphic design ensured the ad stood out in a crowded social media feed, leading to features in HuffPost and Time magazine.h
The Secret Sauce of Viral Food Ads
Are you curious to know what these viral campaigns have in common? Well, they all use a mix of visual storytelling, strategic color choices, and a strong brand voice. They understand the platforms that they are advertising on and engage their audience with content that resonates. They are ahead of trends, make their brand personal, and always include a clear call-to-action. Here are some key ingredients that are required:
Storytelling: Start weaving a story that connects with your audience emotionally.
Visual Appeal: Use high-quality images and videos that make viewers salivate.
Brand Personality: Let your brand's unique voice shine through in every ad.
Engagement: Encourage interaction by asking questions or including interactive elements.
Trendsetting: Stay ahead of the curve by capitalizing on the latest food trends.
Authenticity: Keep it real with genuine content that reflects your brand's values.
Call-to-Action: Make it clear what you want your audience to do next, whether it is to visit a website or try a new product.
Testing and Analytics: Use A/B testing and analytics to understand what works and refine your approach.
Bottom line!
The recipe for a viral digital food ad is no secret, it is a mix of creativity, strategy, and a deep understanding of the audience. These seven examples have set the table for what it takes to capture the hearts, minds, and taste buds of consumers worldwide. Whether through humor, nostalgia, or a simple yet powerful message, these brands have mastered the art of digital food advertising. As we continue to feast our eyes on these delicious campaigns, let us remember that in the world of digital marketing, the most flavorful ads are those that leave us craving more.